Paradise Green Tan Through Beach Wrap
Description
Maximise Your Vitamin D - Minimise Tan Lines
ALL NEW TAN THROUGH
Our 5th Generation Tan Through has arrived. With a brand new composition making it softer than ever before.
We have revolutionised our Transol fabric - taking it to the next level. The number of microscopic holes has increased from 700 to 2000 per square inch making our swimwear even more breathable and due to its unique design is less transparent. Whilst maintaining the Tan Through ability that we are famous for and ensuring that we can provide pin-point definition to our designs in the most vibrant colours we've ever used.
Tan Through Beach Wrap, light, fluid and beautiful on the hips, our wrap is a timeless addition to any holiday wardrobe.
Details
Designed in the UK
One Size Fits All
Smooth Touch 4 Way Stretch
Fade Resistant & No Discolouration After Washing
Patented Transol® Tan Through Fabric.
Super Quick Drying (3X Faster Than Normal Swimwear)
Crease Resistant Fabric, Perfect For Travelling Without The Need To Iron
Incredibly Lightweight, Perfect For Travelling & Packing
Print Placement May Vary From Image Shown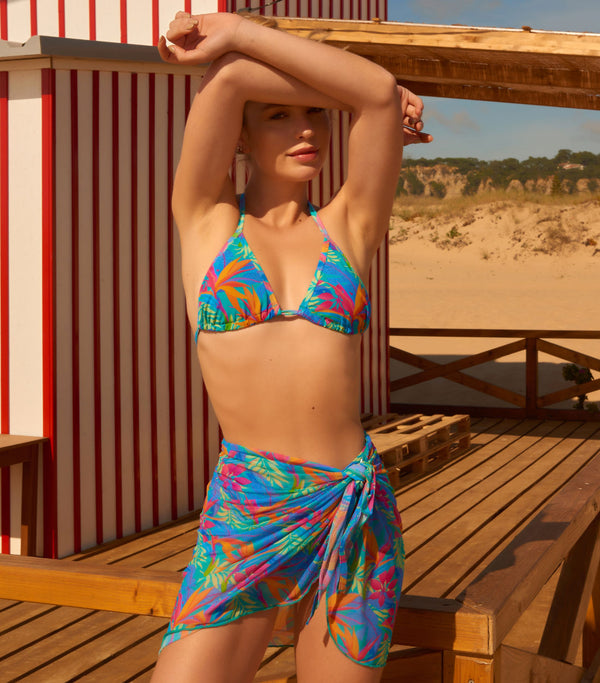 Tan Through swimwear is a unique advancement in swimwear technology. Designed to reduce tan lines and help you achieve an all over golden glow by allowing the suns tanning rays to pass through the patented Transol® fabric. Furthermore, Tan Through fabric dries 3X faster than normal swimwear, and allows your skin to breathe - keeping you cool and comfortable at all times.
Find out more