Leopard Orange Swimsuit
Sale price
£19.45
Regular price
Description
This practical but comfortably designed swimsuit is perfect for every day use.
Whether you are spending the day at the spa, down on the beach or just lounging by the pool, this swimsuit looks fabulous.
Made from high quality Poly Lycra.
Details
• Made in England
• High Leg Line
• Shoulder Straps
• Lined Bust
Fabric: Poly Lycra A soft and supportive stretch fabric that is cool and refreshing against the skin. Constructed from man made fibers poly lycra is one of the most versatile and beneficial fabrics in our collection...
Advantages
• Shrink proof
• Hypoallergenic
• High elasticity
• High durability
• Odour resistant
• Crease resistant
• Resistance to abrasion
• Unique construction guarantees shape retention
• Easy to wash & Super quickdrying (75% faster than cotton)
• Low moisture absorbency; transfers moisture rapidly to the materials surface where it can evaporate.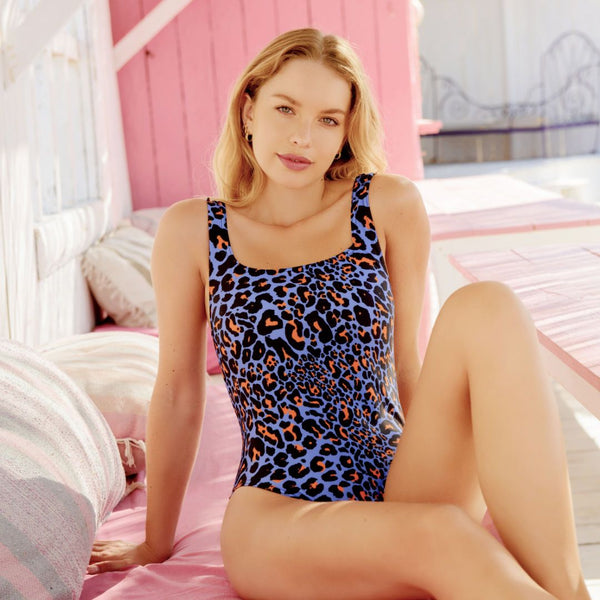 Size Guide
| | | | | | | | |
| --- | --- | --- | --- | --- | --- | --- | --- |
| UK Size | 8 | 10 | 12 | 14 | 16 | 18 | 20 |
| AU Size | 6 | 8 | 10 | 12 | 14 | 16 | 18 |
| EU Size | 36 | 38 | 40 | 42 | 44 | 46 | 48 |
| US Size | 4 | 6 | 8 | 10 | 12 | 14 | 16 |
| Body Length from Top of Shoulder to Crotch (in) | 23 | 24 | 25 | 26 | 27 | 28 | 29 |
| Body Length from Top of Shoulder to Crotch (cm) | 58 | 61 | 63 | 66 | 68 | 71 | 74 |
| Bust (in) | 32-36 | 34-38 | 36-40 | 38-42 | 40-44 | 42-46 | 44-48 |
| Bust (cm) | 81-91 | 86-96 | 91-101 | 96-106 | 101-111 | 106-116 | 111-121 |
| Waist (in) | 24-26 | 26-28 | 28-30 | 30-32 | 32-34 | 35-37 | 38-40 |
| Waist (cm) | 61-66 | 66-71 | 71-76 | 76-81 | 81-86 | 88-94 | 96-101 |
| Hip (in) | 34-36 | 36-38 | 38-40 | 40-42 | 42-44 | 44-46 | 46-48 |
| Hip (cm) | 86-91 | 91-96 | 96-101 | 101-106 | 106-111 | 111-116 | 116-121 |